Secretary of Health and Human Services Tom Price resigned on Friday night following numerous revelations that he had taken pricey private jet travel at the taxpayer's expense to conduct official business.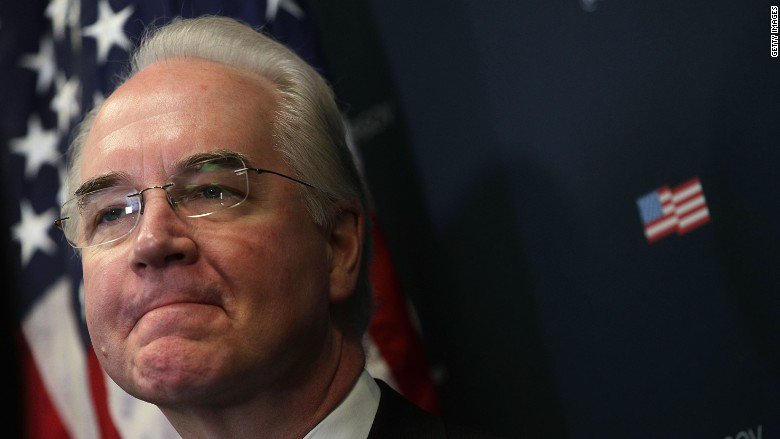 "Secretary of Health and Human Services Thomas Price offered his resignation earlier today and the President accepted," a statement from Press Secretary Sarah Huckabee Sanders read. "The President intends to designate Don J. Wright of Virginia to serve as Acting Secretary, effective at 11:59 p.m. on September 29, 2017. Mr. Wright currently serves as the Deputy Assistant Secretary for Health and Director of the Office of Disease Prevention and Health Promotion."
Price's resignation follows a flurry of negative and damaging headlines over that use of private and military jets. On Thursday, Price cut a check for the costs he incurred. But he had chosen only to pay for the price of his seats on the plane (just under $52,000) and not the total cost of the trips themselves (which exceeded $1 million). By the end of the week, Trump had clearly soured on his HHS Secretary.
"I'm not happy, that I can tell you," Trump told reporters on Friday afternoon.
In his resignation letter, Price expressed his regret "that the recent events have created a distraction." But, he added, "You may rest assured that I will continue to support your critical priorities going ahead because failure is not an option for the American people."
Inside the administration, the sense had grown that Price's position had become untenable. He was "right it's a distraction, but also Trump legit does not like conspicuous government waste," a senior administration official told The Daily Beast, citing the president's attempts to reduce the upkeep costs of Air Force One.
The president's anger at Price wasn't exclusively due to the air-travel scandal. According to Trump administration sources, speaking to The Daily Beast on the condition of anonymity in order to speak freely, Trump had been increasingly annoyed or angry with Price for his inability to shepherd the process of repealing and replacing Obamacare. Price had championed repeal legislation when he served in the House of Representatives. But he was notably distant from the debate while at HHS—an absence that reportedly irritated the president.