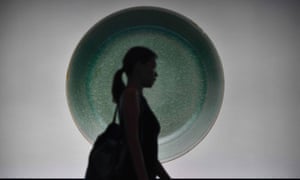 A 1,000-year-old bowl from China's Song Dynasty sold for US$37.7 million in Hong Kong on Tuesday, breaking the record for Chinese ceramics, auction house Sotheby's said.
The small piece — which dates from 960-1127 — stole the previous record of $36.05 million set in 2014 for a Ming Dynasty wine cup which was snapped up by a Shanghai tycoon famous for making eye-watering bids.
The person behind Tuesday's winning offer wished to remain anonymous, Sotheby's said, with the auction house declining to say whether the buyer hailed from the Chinese mainland or not.
"It's a totally new benchmark for Chinese ceramics and we've made history with this piece today," Nicolas Chow, deputy chairman of Sotheby's Asia, told reporters.
Bidding started at around US$10.2 million with the suspense-filled auction lasting some 20 minutes as a handful of phone bidders and one person in the room itself competed with each other.
The winning offer eventually came from one of the phone bidders and was received by a round of applause.
The bowl — originally designed to wash brushes — is an example of extremely rare Chinese porcelain from the imperial court of the Northern Song Dynasty and one of only four such pieces in private hands, according to Sotheby's.
Measuring 13cm in diameter, the dish features a luminous blue glaze.
– 'Chicken cup' –
The price tag exceeds the earlier record made by a tiny white piece known as the "Chicken Cup", decorated with a colour painting of a rooster and a hen tending to their chicks, and created during the reign of the Chenghua Emperor between 1465 and 1487.
That cup sold in 2014 to taxi-driver-turned-financier Liu Yiqian, one of China's wealthiest people and among a new class of Chinese super-rich scouring the globe for artwork and antiquities.
He famously drank tea from the dainty vessel after his purchase, causing something of a social media meltdown in China at the time.
In recent years Liu, who has built his own museum in Shanghai, has made a series of record-breaking bids and has become China's highest profile art collector.
More recently he has turned to acquiring Western masterpieces.
In 2015 he splashed out on Modigliani's "Nu Couche" or "Reclining Nude" for more than US$170 million at Christie's in what was then the second highest price ever paid at auction for a work of art.
An ongoing anti-corruption drive in mainland China has done little to dent feverish bidding in Hong Kong's auction houses.
Earlier this year a giant diamond named the "Pink Star" broke the world record for a gemstone sold at auction when it fetched US$71.2 million.
The 59.60-carat rock was sold to the city's Chow Tai Fook jewellery chain which has a strong presence across East Asia.
Last year the city's auction houses set a new record for the most expensive designer handbag — a diamond-encrusted crocodile-skin Hermes handbag with white gold details that sold for US$300,000.
China's various dynasties were renowned for their fine ceramics with the Song period often regarded as producing some of the region's most superb examples.
Song ceramics are particularly known for their subtlety, simplicity and exquisite glazing and have long been among the most sought after objects for collectors.
Get more stories like this on
Twitter
&
Facebook